This is an intense, claustrophobic tale full of the sights, sounds and particularly smells evoked by a hothouse Parisian summer. Rachel Kendall takes her heroine ever deeper into an existential crisis exacerbated by artistic failings and an uneven relationship with her male partner Z. The lush prose will convince you that you've been to every café and exhibition the city of lovers has to offer; the plot will wrench at both your heart and your psyche. This book is for everyone who's ever read Camus or Sartre or who's ever taken the metro or smoked a Gauloise by the Seine and wondered: who am I really? Kendall's gripping narrative conjures strange and stranger days indeed.
Allen Ashley (British Fantasy Society award winner)


I'm happy to report that Rachel Kendall does an exceptional job of keeping her novel, Stranger Days, fresh, fun and riveting. Kendall doesn't shy away from the usual intrigue and romance of Paris, but she does it so well, Stranger Days is a pleasure to read.
Bill Ectric, on Amazon


In 'Stranger Days' [Kendall] presents us with the troubling character of Elodie, a brilliantly alive evocation of the caprice and menace of unreasonable youth. Traces of self-harm and paranoia are never far away, as our decadent and narcissistic narrator plumbs the depths of her beloved Paris in search of, and in flight from, the mysterious Elodie. When I read Rachel Kendall, I long for a time machine and an audience with André Breton at which we could get out of our boxes on something dangerous. But I know I'd wake up with a stuffed ostrich on my chest and knife through my ear, so I'll make a cup of coco and snuggle up with her books instead.
Douglas Thompson (author of 'Ultrameta'.)


I couldn't put this book down! Finished it yesterday. Paris is so vivid, and the heat and the freedom and claustrophobia both those things bring. So many sentences are so beautifully put, I had to re-read them just to get the feeling of them again. And so much more besides.
Esther Miller, musician.


For anyone who has had the desire to get lost in the catacombs of Paris with the ghost of Henry Miller or Anais Nin, smoke opium and get involved in relationships that are barely survivable, this is absolutely the book for you.
J from NY, on Amazon


Read more reviews here:

The Skinny:
http://www.theskinny.co.uk/books/book-reviews/the-bride-stripped-bare-rachel-kendall

Crime Culture
http://www.crimeculture.com/?page_id=5485

The World is a Text
http://bdrewcollier.blogspot.co.uk/2015/06/rachel-kendalls-stranger-days.html

Future Fire
http://reviews.futurefire.net/2015/07/kendall-stranger-days.html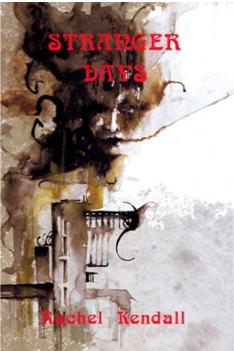 Now available from Oneiros Books, the debut novel by Rachel Kendall.

'Stranger Days' is a tale of love, jealousy and madness in the lives of three friends one hot summer in Paris. Written as a diary, the plot intertwines scribblings on creativity and identity with a thrilling, yet ultimately catastrophic, journey through the heart and mind of an extraordinary city.